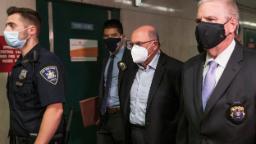 New York prosecutors on Thursday charged the Trump Organization, Trump Payroll Corporation and its Chief Financial Officer Allen Weisselberg with 15 felony counts in connection with an alleged tax scheme stretching back to 2005, in an extraordinary legal development against the former President's namesake company.
Prosecutors in court said the counts include a scheme to defraud, conspiracy, criminal tax fraud, offering a false instrument for filing and falsifying business records.
The indictment also alleges Weisselberg evaded $1.76 million in taxes over the period beginning in 2005 and that he concealed for years that he was a resident of New York City, thereby avoiding paying city income taxes.
Weisselberg pleaded not guilty Thursday afternoon.
Prosecutors say they have digital drives with grand jury testimony, bookkeeping records, tax records, statements of potential witnesses.
Weisselberg attempted to conceal his participation in the scheme with the knowledge of the company, prosecutors said.
Read more about today's charges here.