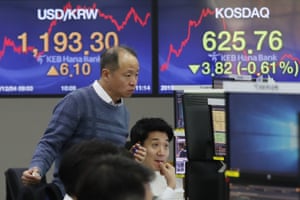 Good morning, and welcome to our rolling coverage of the world economy, the financial markets, the eurozone and business.
The season of goodwill may be approaching, but clearly no-one told Donald Trump.
The US president has spooked investors around the globe with a series of attacks on other nations, including some close allies, as he threatens to escalate his trade war.
Fresh from threatening France with tariffs on cheese and champagne, Trump hinted that he could use trade as a weapon to force NATO members to spend more on defence.
But markets were really riled when the president suggested that he might wait to agree a trade deal with China until after the 2020 presidential election – a whole year away. A negotiating tactic, or an admission that talks behind the scenes are floundering?
Either way, Trump's words sent stocks sliding in London and New York last night, with Britain's FTSE sinking 127 points to a two-month low of 7158.
We might see a small recovery this morning, but the mood in the City is rather unfestive.
Traders are concerned that America will impose fresh tariffs on China on December 15. Previously, there was hope that Washington would waive them, to help secure a Phase One deal with Beijing.
The mood has totally changed in a couple of days, from optimism to pessimism. Jim Reid of Deutsche Bank tells clients this morning:



Mr Trump has completely taken the momentum out of financial markets this week and the December 15th date will increasingly become a focal point over the next couple of weeks.

Last week the mood music suggested that even if a "phase one" deal hadn't been reached by then, then there was a good chance tariffs planned to be implemented on that date would be postponed. After the stepping up of negative global tariff rhetoric over the last 48 hours, yesterday's headlines suggesting that the US is going forward with the December 15 tariffs grabbed the limelight, although markets had already been trading weaker prior to that.
Stocks in Asia-Pacific markets have already been hit, extending earlier losses this week. Australia's S&P/ASX 200, which is vulnerable to a slowdown in China, has shed more than 1%.
Commodity prices are also being hammered, on concerns that global growth will be hurt by an escalating trade war.
The most-traded nickel contract on the Shanghai Futures Exchange has crumbled by over 4%.
Gold, though, is rising, as nervous investors look for a safe haven for their cash.
Also coming up today
Data firm Markit publishes its PMI surveys for the world's service sector companies today.
The 'flash' estimates released two weeks ago were poor, and suggested Britain's services sector contracted during November. So today's 'final PMI' report could show that the UK economy is shrinking again…..
The agenda
9am GMT: Eurozone services PMI for November
9.30am GMT: UK services PMI for November
3pm GMT: US services PMI for November
3pm GMT: Bank of Canada interest rate decision