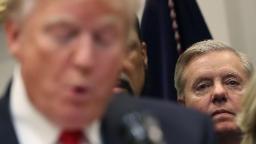 In an interview on "Axios on HBO," Jonathan Swan asked the South Carolina senator: "Are you open minded if more to comes out that you could support impeachment?"
"Sure, I mean show me something that is a crime," Graham replied. "If you could show me that, you know, Trump actually was engaging in a quid pro quo outside the phone call, that would be very disturbing."
Graham repeated his view — voiced many times in the past few weeks — that Trump's July phone call with Ukraine did not amount to an impeachable offense, saying according to Axios, "I've read the transcript of the Ukrainian phone call. That's not a quid pro quo to me."
When asked about Trump's subsequent suggestion that China should investigate the Bidens —
which was made publicly in full view of the press
— the South Carolina senator said he thought the move was "stupid" but that Trump was simply voicing his frustration.
"As to asking China to look into Biden — that was stupid. Nobody believes that China would be fair to Biden, Trump, me or you, or anybody. Bad idea," Graham said in the interview. "That didn't last very long. I think that's a frustrated Trump who feels like there's two different games, that people in your business are never gonna really sit down and talk to Hunter Biden unless it's a softball interview."
A spokesman for Graham on Sunday underscored that the senator has not seen anything yet from Trump that he considers an impeachable offense.
The "Axios on HBO" segment was taped on Tuesday before acting White House chief of staff Mick Mulvaney came under renewed scrutiny Thursday after he said, then denied, that Trump held up an aid package to Ukraine in exchange for an investigation into an unsubstantiated theory that Ukraine, not Russia, was responsible for hacking Democratic Party emails in 2016.
His comments undercut denials by the President of a quid pro quo, and stunned White House staffers who questioned his strategy.
Graham's interview was paired with an "Axios on HBO" interview with Utah Sen. Mitt Romney, who issued
one of the strongest condemnation
of the Trump administration's withdrawal from Syria of any Republican officeholder. In the Axios interview, Romney underscored his criticism of the President's actions in Syria and also took issue with Trump's maneuverings with Ukraine — suggesting that Trump's request to China was lawless and adding that he
wanted to see more information
about what was going on behind the scenes.
"I don't think there's any question but that going on TV, on the White House lawn and saying, 'China, will you investigate my political opponent?' is wrong. It's a mistake," Romney said in the interview with Mike Allen. "It was shocking for, in my opinion, for the President to do so and a mistake for him to do so. I can't imagine coming to a different point of view. We certainly can't have presidents asking foreign countries to provide something of political value. That is, after all, against the law."
"That's simply not true," he added.
The two interviews come at a time when Trump and his allies are pressuring Republicans to stand together in opposition to the impeachment inquiry being pursued by Democratic-led committees in the House.
Asked what additional facts he needs, Romney said, "I'd like to learn the full background of who all was involved in communications with Ukraine — what was said to them, what the intent was on the part of the President, the administration with regards to Ukraine."
The Utah senator said he wanted to understand not only the President's intent in his dealings with Ukraine's leader, but also whether it was a "more concerted effort" and what the "countervailing considerations" were.
"Were there efforts to say, 'No, no, no. This is not a request by the President'? I just want to get as much information as we can, (to) make an assessment consistent with the law and the Constitution," Romney told Allen.
Amid speculation that his outspoken rhetoric about Trump may lead to another presidential run, Romney said, "I'm not gonna do it again."
"Well, I'm not gonna run against President Trump. That would be a fool's errand I'm afraid. On my part, I've run twice before and lost. So I'm not gonna do it again."