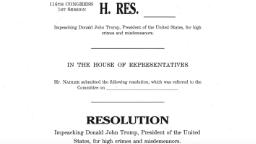 House Foreign Affairs Chairman Engel said that adding an obstruction of justice charge to the impeachment articles would have been a "mixed bag of tricks."
He said such a charge didn't have broad consensus in the caucus — and could've been tough to get the votes.
"Prevailing feeling was we were better off with two because the obstruction of justice brought in a whole bunch of things, and it was a mixed bag of tricks, and the consensus was we were better off standing with two rock solidly and not spread ourselves too thin," he said.
What this is about: Earlier, today, Democrats unveiled two articles of impeachment against Trump: Abuse of power and obstruction of Congress.
They has debated adding a third article of impeachment on obstruction of justice, which would have captured the allegations against Trump that were detailed in former special counsel Robert Mueller's investigation.
But House Speaker Nancy Pelosi and her top lieutenants ultimately decided to keep the articles focused narrowly on Ukraine, out of concern for moderates who only backed an impeachment inquiry once the Ukraine scandal spilled into public view.