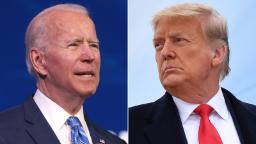 Now, Trump is just days away from leaving office and Biden is about to be inaugurated.
Biden proved to be Trump's kryptonite and helped himself tremendously by doing something very simple: allowing Trump to be Trump. The President hogged the spotlight as he worried about Biden potentially defeating him.
Some of the lowest points for Trump over the last two years revolved around Biden.
First, there was the
2019 impeachment of Trump
. It largely stemmed from him wanting Ukraine's president to investigate Biden ahead of the 2020 election.
Biden didn't do anything directly to cause Trump to commit the actions that led to his impeachment. Biden had merely announced he was running for president earlier that year.
Democrats got the message Trump was sending and nominated Biden.
(Note: Barack Obama outpaced Mitt Romney in media mentions during the 2012 general election campaign by a similar margin to Trump's 2016 ratio.)
During the transition period, Biden has been actively planning his presidency and not spending too much time publicly worrying about Trump's false claims of voter fraud.
Trump hasn't taken a backseat like most outgoing presidents during the transition timeframe. Instead, his false diatribes of voter fraud dominated the media landscape in the post-election period, despite the fact that his term as president is over on January 20.
Trump it seems, couldn't stand not to be the center of attention, which is unusual for an outgoing president.
For example, so far since December 20, Trump got about 70% of the news mentions. To give you an idea of how unusual that is, every single outgoing president in the internet era (since Bill Clinton in 2001) had gotten fewer media mentions than the president-elect in the month leading up to inauguration.
Biden, it seems, not only won the election, but he won the transition period as well.