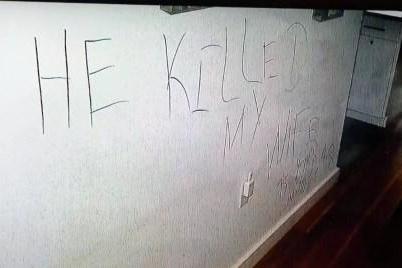 A murder trial following the deaths of two engaged Boston doctors has revealed grim details from the scene of the crime, including photos showing the words "he killed my wife" and "payback" scrawled on a wall. One of the victims' faces in family photos also had been scratched out with black ink.
Bampumim Teixeira, who briefly worked in the building as a doorman, is accused of fatally stabbing Richard Field and Lina Bolanos in their Boston apartment in 2017.
Boston police revealed on Wednesday that genetic material found on Mr Teixeria's blood-stained boots links him to the scene of the crime.
Detective Sean Wallace told a jury that Mr Teixeira had told police "they killed my wife" while being taken into custody. Mr Wallace also said the suspect told police that "you guys are going to die". 
The trial, set to resume for its eighth day on Thursday, has heard from more than a dozen witnesses detailing evidence recovered from the scene or offering chilling details about what they saw and heard at the apartment building that night.
Prosecutors say that Mr Teixeira reached the couple's 11th floor penthouse apartment on 5 May, 2017. Neighbours testified that they heard gunshots before calling 911.
Mr Field was found in a pool of his own blood with his hands behind his back in handcuffs. Ms Bolanos was found in a pool of her own blood after being stabbed several times in the neck. The cuffs of her sweater were taped together, according to police.
When officers arrived, they say a man began shooting at them. Police returned fire and struck Mr Teixeira.
Police also recovered a carving knife and a bag filled with Ms Bolanos's jewellery from the apartment.
Mr Teixeria faces two counts of first-degree murder, armed robbery and kidnapping. He faces a sentence of life in prison without parole if convicted.
He has pleaded not guilty. 
Jurors also heard one of the 911 calls from the night of the couple's death. 
Ms Bolanos's godmother Amanda Gibbs, sobbing on the witness stand as family members in the court hung their heads, said she recognised her voice on the message.
The 911 operator apparently hung up on the caller because they couldn't hear the faint voice on the line, struggling to answer the operator.
From his mobile phone, Mr Field also attempted to call 911 eight times, though each call lasted no longer than a few seconds, according to police.
Following his failed attempts to reach police, Mr Field begged a friend for help, texting them: "Call 111. Gun man. In house. Pls. Nw."
Mr Field followed his texts with five separate messages reading "serious".
The defendant's attorney Steven Sack had argued that there was "no evidence" that linked Mr Teixeira to the scene of the crime and broke into the apartment. "And that's because he didn't."
Boston CBS affiliate WBZ says the prosecution could rest its case by the end of the week.