Young activists in Brazil: less CO2, more vida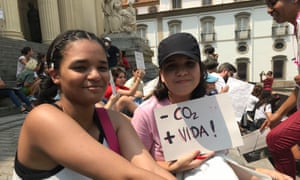 There were small demonstrations across Brazil on Friday. In the morning, dozens of school and university students occupied the steps of Rio de Janeiro's state legislature in hot sun. They sang, waved placards and called for the removal of business-friendly environment minister Ricardo Salles.
Striking high school student Maria Hardman, 15, was angry over far-right president Jair Bolsonaro's failure to protect the Amazon. "He does not value the environment," she said. "Bolsonaro is an imbecile. He does not represent me."
Brazilians have yet to grasp the scale of the climate emergency, said Mariana Império, 30, a masters student at the Federal University of Rio de Janeiro.
Thalita Alves, 20, a trainee teacher at the Federal Fluminense University, said people began waking up when fires in the Bolivian Amazon caused São Paulo skies to darken. "Brazilians who voted for Bolsonaro … faithfully believe what he says," she said. Later another demonstration marched from Ibama, the environmental agency, to the city centre.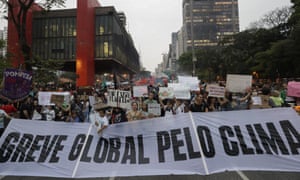 High school students formed a human mosaic reading: "Save the Amazon" in Recife and held up placards with data on Amazon fires in Salvador. Students marched in the town of Novo Friburgo and in the capital Brasília, an SOS Amazon banner was hung on the walls of the environment ministry.
In the Amazon city of Belém, hundreds gathered beside the Marajó Bay. "Coming from the Amazon, I feel it's a duty to fight," said Lidia Seabra, 24, studying a masters in biology at the Federal University of Pará. "We are united here to defend the Amazon," said engineering student Devyison de Jesus, 21.
In São Paulo, a few thousand blocked Paulista Avenue after cheering speeches from children such as Cora Ramos, 10, who held up a placard she had made that read "there is no planet B". "If we destroy this one, there won't be another," she said.
Brazilian activists were also present at marches abroad. Alessandra Munduruku, an indigenous activist from the Munduruku tribe of Pará state, made a short, powerful speech to an enormous crowd in Berlin. "My people are grateful to have good people fighting and defending the Amazon," she said through a translator to deafening cheers.
"I saw many children, many young people, parents, old people, I thought that demonstration was very beautiful," she told the Guardian. "I had goosebumps."