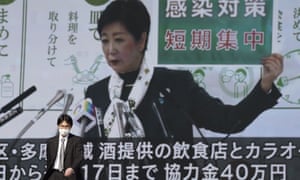 Bars and restaurants in Tokyo have been asked to close early for the next three weeks as the city attempts to avoid a year-end surge in Covid-19 cases.
The governor, Yuriko Koike, said places serving alcohol, including karaoke venues, should close by 10pm from Saturday until 17 December.
Speaking to reporters she said:



To prevent a further spread of infections and protect the lives of the residents of Tokyo, we are taking brief and intensive measures. We realise this is an extremely important time of year for business owners, but if we don't stop this now it's just going to keep going.
Japan's national and local governments do not have the legal powers to enforce business closures or European-style lockdowns. Businesses that comply will be eligible for a one-off payment of ¥400,000 (£2,900) from the metropolitan government.
The requested restrictions on opening hours are the first since the end of August, when Tokyo was confronted by a second wave of infections. Daily cases have been rising again in recent weeks, with 401 on Wednesday, following a record 537 last week. The city now has a total of 38,598 cases.
In addition to health ministry advice to avoid the "three Cs" – confined and crowded spaces, and close human contact – Koike has unveiled "five smalls" – precautions that should be taken when dining out.
Under these guidelines, people should eat in small groups, keep their meals brief, avoid eating from shared plates, talk quietly and observe established preventive measures such as mask wearing, hand sanitising and visiting only properly ventilated places. Koike has also asked people to avoid non-essential outings and to work remotely where possible.
Several parts of Japan have witnessed a surge in new infections, prompting the government this week to remove Sapporo and Osaka from a subsidised tourism campaign aimed at propping up regional economies during the pandemic.
Japan's third wave has prompted warnings about the strain the rise in serious cases is placing on hospitals. Toshio Nakagawa, the president of the Japan Medical Association, said more beds were being taken up by patients with severe Covid-19 symptoms, forcing staff to scale down the treatment of other illnesses.
"We need to act urgently or we will face a nationwide crisis," Nakagawa said, urging authorities to restrict business operations. "As medical professionals, we believe that vigorous disease prevention is also best for the economy."
Japan has fared better than many other countries since the start of the pandemic. As of Wednesday, it had 135,400 cases and 2,001 deaths, the health ministry said.